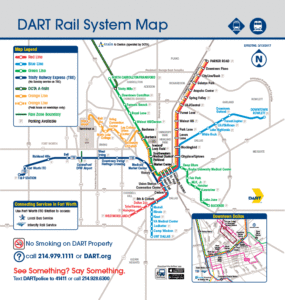 When I moved from Baltimore to Dallas, many people told me I'd have to buy a car in order to survive here. Taking a quick look at a map of DFW, I thought they were right. The metro sprawls in every direction.  Much of the area's new growth is happening about an hour north of Dallas in places like Frisco. Cowboy hats aren't conducive to cycling. And let's face it, Dallas gets a little bit warm in the summertime.
Yet here I am, having lived in Dallas for 3 years without a car. It's actually far easier than I had expected. Here are a few tips on how I did it, and many of these points could be applied to cities across the U.S.
Chose your work location wisely. Not everybody can be selective in where they work, but if given the choice between similar jobs with one in an urban, transit accessible setting and another in a suburban office park, many millennials (and Gen Zs in a few years) will want the mobility options that come with urban neighborhoods.  Following this trend, more companies are moving to downtown areas to capture growing demographics that want more commuting options. Having a job in a transit-friendly, walkable area is one of the biggest factors in becoming less automobile dependent, but this isn't a hard requirement. Even a suburban workplace that is on a frequent transit line or a bike route can provide opportunities to drive less.
Try transit. DART is actually underrated. I've spent time on transit systems all over the country. Yes, many don't compare to their European counterparts, but compared to other U.S. systems, Dallas' transit system is well maintained, on-time, and useful for many trips. Mockingbird Station, Uptown CityPlace, downtown Plano, Deep Ellum and many other stations are walkable to restaurants, retail and nightlife.  Bishop Art's new streetcar has been extended to serve the arts district, and buses like the 1 and the 183 serve some key neighborhoods and attractions that light rail doesn't reach.
Think about the last mile. Transit in America doesn't go everywhere.  A lot of times the nearest light rail station will be a mile or more from your destination. How will you fill this gap? If you're a cyclist like me, then the solution is easy. If the last time you rode a bike was in 5th grade, you'll need other options such as Uber.  Cities like Los Angeles have thought about this last mile problem and are drafting plans and policies to fill these access gaps.
Prepare for the heat. In Baltimore, the problem was the humidity in the summer and the cold in the winter. In Dallas, it's mostly the heat – and it can be dangerous if you're unprepared for it. I always carry water and protein bars in the summer, especially while cycling.
Cycle like a car.  This applies to Dallas and most cities without a full bike lane network. I find the safest way to cycle on streets without bike lanes is to keep up with traffic and ride in the middle of the traffic lane. I guess this makes me an "enthused and confident" cyclist, but it may not be for everybody. If you're a novice cyclist in Dallas, Katy Trail and the Sante Fe Trail are off-road and can be used for commuting if your origin and destinations are nearby.
Get an indestructible bag. I've taken my Chrome bag with me through rain, hail, droughts, tornadoes and wild fires. You want something weather proof and spacious enough to carry food, water, books, iPads, and anything else you may need while waiting for a bus or cycling.
Have backup. If you need to pick something up at Ikea, forget the bus. Zipcar lets you rent a car by the hour and is great for groceries or when you need to pick up large items. As I mentioned before, Uber can also fill in last mile gaps and nightlife trips after DART stops running.
Finally, keep an open mind. Being car free requires flexibility in housing/job locations and commute routes. DFW is a major employment center and many people instinctively move to the northern suburbs when relocating here. There are a number of walkable, architecturally interesting neighborhoods in or near central Dallas which provide far more convenience and transportation options that could be considered, though. As Downtown Dallas and nearby neighborhoods continue their development boom, centrally located employment, retail and housing options will create more opportunities for people who are looking for alternate mobility options.