McKinney Ave. in Dallas is a gem. It has interesting new architecture, lively night life and high end apartments all connected by one of America's best vintage streetcar fleets. As Dallas' streetcar system expands and higher density development continues to be built, pedestrian volumes are increasing on McKinney Ave as well. Traffic is already fast on the street, and while some parts of the corridor are paved with a stamped brick pattern to slow traffic,  4 traffic lanes by nature encourage higher speeds compared to narrower streets. Walk around during rush hour and you'll see many BMWs traveling in excess of 35mph.  Visit on Friday or Saturday night and you'll also see cars blocking the streetcars.  The land uses and great transit access of McKinney Ave. promote walkability, but the street itself is mostly intimidating and uncomfortable for pedestrians. The presence of the streetcar tracks complicates proposals for a road diet, but an interim solution may be possible.
Road diets have been shown to reduce collisions, slow traffic speeds, and create a more pedestrian friendly environment, but because McKinney Ave's tracks are in the middle of the street, a traditional 2 lane + a middle turn lane conversion isn't possible right now. A low cost solution could involve converting the shared streetcar lanes into streetcar, bus and left turn only lanes while keeping the outer lanes for through traffic. This design solves several problems:
Speeding Traffic: Through traffic will be less likely to speed on a single lane
Streetcar conflicts: Fewer cars on the tracks means fewer streetcar/automobile conflicts and accidents
Valet/Drop off access: There's still space for through traffic to go around curbside Uber/Valet pickups using the streetcar lane if need be
Transit bottlenecks: Faster bus and streetcar service with dedicated lanes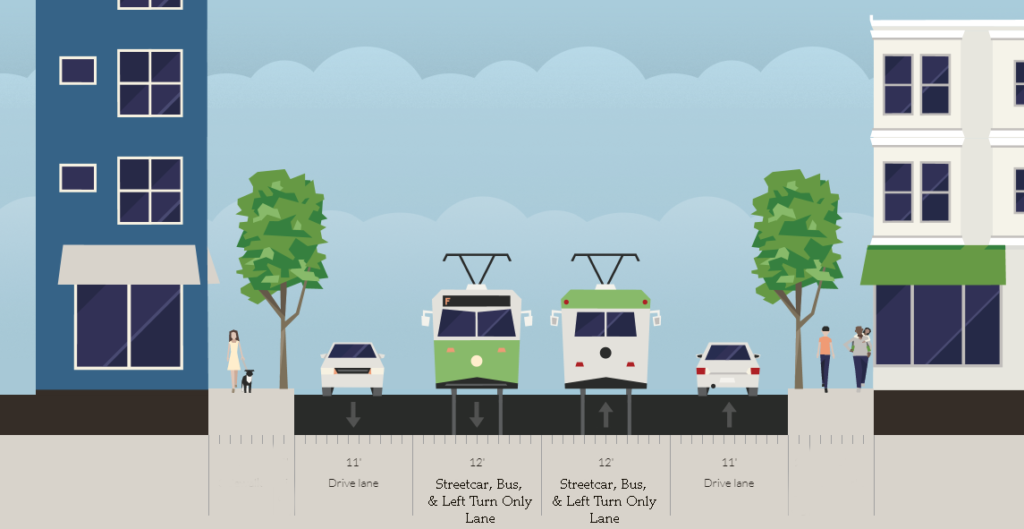 Since this solution doesn't involve geometric changes, pavement, signage and enforcement will be important. The dedicated streetcar/bus lanes will need to be painted to discourage through traffic, and frequent overhead signs will need to communicate proper lane designations to drivers.  Buses will also have to pull in and out of the through lane for boardings, so bus stop consolidations may be necessary to help the street work more efficiently. The #39 stops almost every block on this section of McKinney, so there's definitely an opportunity to remove some stops to make this bus route work better.  The middle lanes are already bottlenecks for through traffic due to the slower moving streetcars and left-turning traffic, so formalizing this arrangement shouldn't significantly affect capacity, either.  Similar center transit lanes exist in other cities and they're part of NACTO's transit street design guidelines. Toronto recently implemented a similar design on King Street which is prioritizing streetcar service while reducing right of way for automobiles. As McKinney Ave. densifies and becomes a mixed use destination, transit-only lanes can make the corridor a true transit street while calming traffic and improving pedestrian safety.