I recently took the new Brightline (now Virgin Trains) service between Miami and West Palm Beach. Touted as America's first privately funded high-speed rail service, the first phase of service currently serves downtown Miami, downtown Ft. Lauderdale and downtown West Palm Beach. Expansion plans for Orlando and Tampa are in the works. Being that I'm car free and wanted to visit West Palm Beach for the first time, I rode my bike to the Metro, got off at the Government Center station, then made the short bike ride to the brand new Miami Central Station.
The first things I noticed were the bike share kiosks, Lyft drop off areas and the expansiveness of the project. Multi-modal connections, retail and housing are being built at the same time as rail service. This helps leverage the infrastructure investment by creating a neighborhood where people are more likely to ride the service. The second thing I noticed was the quality of the station itself. It's bright, easy to navigate, and the lounges almost rival European high speed rail stations.
The train service itself is comfortable, with in-seat drinks and food service, wifi and enough electric outlets to power a small house. Staff checked my bike in for free (I believe there will be a fee for this in the future, though).  The station in West Palm Beach is located between their historic downtown and City Place, so it was convenient to hop off the train and ride around town.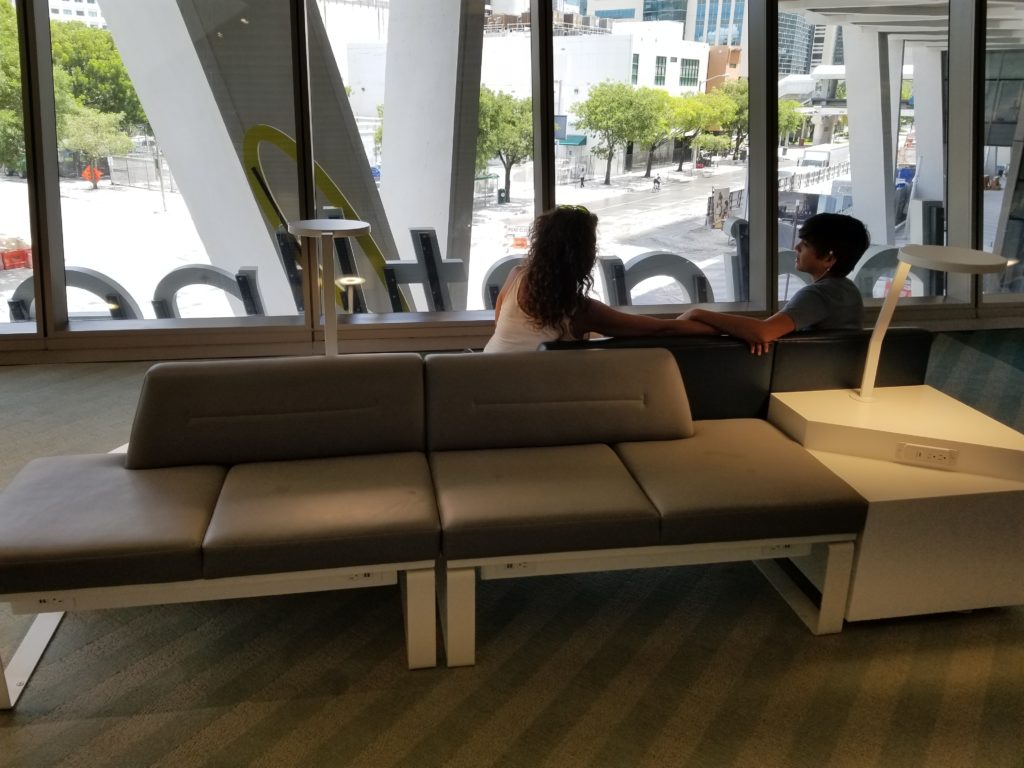 Because the service is more inter-city rail than commuter rail, its usefulness for commuters may be limited to people who live and work around the downtowns of Miami, Ft. Lauderdale and West Palm. With adjacent development happening as part of Brightline service and new high rises going up throughout all three downtowns, this commuter market will grow in coming years. I could imagine someone living in downtown WPB, working in downtown Miami and using the service every day to avoid I-95 traffic. The price of monthly Brightline passes will need to be competitive to make this commuting option a reality, however.
Since Brightline is entirely privately funded, they made sure to create a product with long term ridership in mind. Here are a few things public transit agencies could learn from the project:
Building stations and development together.  This is more difficult for the public sector to do because of fragmented property ownership and the number of stakeholders involved in public sector projects, but it should be a priority. Transit ridership is falling even in cities that are expanding their rail networks. When I see huge expanses of surface parking adjacent to stations, it's not difficult to figure out why. Since driving and ride sharing is so convenient, transit service has to be even more so to compete with them. This means building neighborhoods centered around transit. Development supports the transit. Transit supports the development.
Clean facilities, on-time service.  Research has shown once transit riders stop taking a service due to poor service, it's very difficult to get them back on it. Transit service is ultimately a product, and its customer base shouldn't be taken for granted with poor quality facilities or avoidable delays.
Multi-modal connections. Brightline doesn't think about their stations as just drop off areas, but as multi-modal hubs. A Lyft pick up area and bike share kiosks are right outside the front door of their Miami station. Thinking about the second leg of the trip create a seamless experience and encourages ridership.
Good station locations. Again, light rail and commuter rail station locations are often limited by property ownership, right of way issues and other factors, but Brightline locating their stations downtown makes all the difference in attracting new riders who wouldn't be willing to ride at a less convenient location.
Finally, station design. Rail stations used to be majestic structures and the centerpieces of cities. While Brightline doesn't quite match the architecture of, say, Detroit's Michigan Central, they do a good job of creating transparent, colorful stations that interact well their surrounding neighborhoods.  Payment kiosks and boarding areas are also logically placed with good internal wayfinding. Customer experience at departure and arrival is just as important as the trains themselves.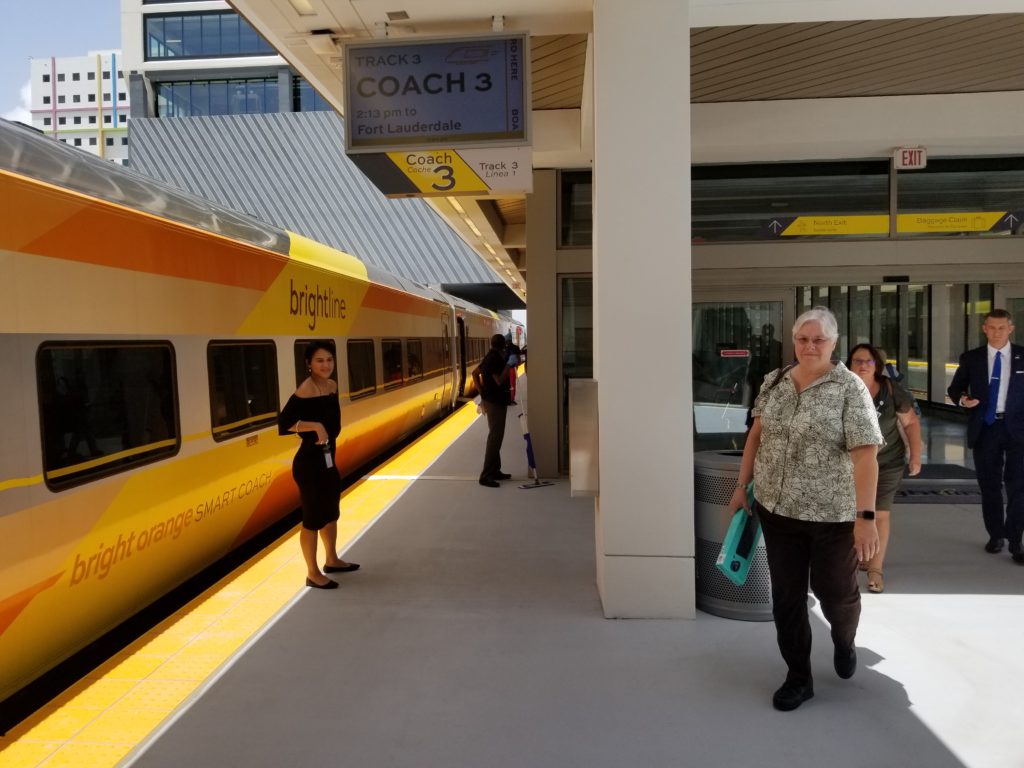 I wouldn't call Brightline "high-speed" rail like their marketing materials tout. Service was interrupted on the way back from West Palm Beach due to train traffic, and several at-grade crossings slowed service down to a crawl, but as the nation's first privately funded passenger rail service in the modern era, this first phase of service does a very good job. It also serves as a model for future public sector transit expansions in an increasingly competitive market with Uber and Lyft siphoning some transit riders.