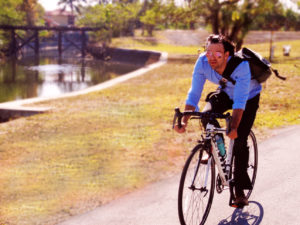 This is my eighth year car free. I sold my car on a whim while living in Baltimore in 2010 after a busted water cooler led to an expensive repair on my Prius.  Well, it wasn't exactly on a whim. I was getting fat after college and realized my sedentary life and car commute were playing a role. I also had an expensive car payment and started adding up the cost: Even a fuel efficient Prius was becoming a financial albatross around my neck.
Selling the car was a leap of faith. Luckily, my friend Nate Evans, who worked with me at Baltimore DOT at the time, stepped in and gave me one of his mountain bikes the day after I sold the car. Over the course of my first year, I went from nearly passing out after 1/4 of a mile ride to doing a 3 day, 150 mile trek through the Allegheny Trail.
I expected to buy a car after I moved to Dallas, but it just never happened. Just as inertia keeps people from changing their driving habits, I found another type of inertia. Living without a car isn't always convenient, but the financial, environmental and personal costs of car ownership weighed more heavily in my calculations every time I was almost ready to buy one. A began to realize a certain amount of inconvenience and perseverance was good for the soul as well. As Amazon drones air drop toilet paper with 10 minute turn around times in the near future, inconvenience is becoming a rare commodity.
Other people have described being car free far more eloquently than I. Everything they say is true. Even aside from the environmental arguments, I wish more people had the option to experience the health and financial benefits of living without a car, at least for a little while. While there is a freedom in driving, there's another freedom in knowing that you're not mandated to own an expensive piece of machinery in order to participate in American life.  Unfortunately, most of our cities and neighborhoods don't allow this choice. I'm not an ideologue by any means, and I probably will own a car again, but I firmly believe that creating cities that at least allow for a broad choice of transportation options is better than creating infrastructurally coercive places that limit citizens to the most expensive and least efficient mode of travel. And I haven't even begun to mention America's horrific automobile death toll, which I'll save for a future article.

With that said, here's a whimsical post from 2011 from my old blog, Car Free Baltimore, after my first year of being car less.
---
It's been one year since I sold my car and began this experiment. Setting out on my expedition, my goals were to experience Baltimore outside the confines of 1000 pounds of metal, educate myself on the issues and barriers of living without a car in the U.S., and sculpt my body into the likeness of a Roman God.
I've accomplished all three. Let me break it down for you.
The first week: There is nothing to eat in the house. The nearest supermarket is 7 blocks away. I go outside to start my car and the cold reality of being without one slaps me in the face. Hard. Because I am 15 pounds overweight, I wobble the 7 blocks to pick up some noodle salad. My feet hurt and I complain to my girlfriend. I consider buying back the car I just sold for $2,000 more than I just sold it for.
The second and third week: It's July 2010. Heat wave, and not the dry kind. Between sweating on a bus and sweating on a bike, I begin taking my bike to work. 5 miles round trip. It's a mountain bike on city streets with tires that could fit on an F150. Sort of like driving a tank on an Indie Car track. I learn a new meaning of the word "sweat". This is when things got real.
The end of the first month: I learn that the Metro and Light Rail systems actually go places. Some of these places are useful. I also learn the delicate intricacies of eye contact protocol on MTA. The hard way.
The second month: Druid Hill Park has a lake and actual grass?  The places I was afraid to go from watching the news don't seem that bad when I begin riding my bike there.
The fourth month: It becomes painfully clear that, decades ago, the people who designed some of these city streets I walk and bike on every day never actually walked or biked on these streets. I also begin to snub my nose at people who call themselves "car free" but who bum rides off of their friends all the time.  I begin refusing rides.  Have I become Arthur Rimbaud?
The fifth and sixth months: Where before a 1 mile bike ride would have me kneeling over and weeping on the side of the road, now I can make my commute without batting an eyelash. Or something.  I also get lean. 15lbs gone and then some. I become an aerodynamic bat out of hell with a taste for bad metaphors and peanut butter sandwiches.
The seventh month: It gets cold and dark. I question being car free, my existence, and the nature of the human soul.  Also, what ever happened to Soul Asylum?
The eight month: As long as I dress like I'm base jumping off of K2, cycling in the winter isn't that bad.
The ninth month: I buy a new street bike. My cycling range increases dramatically.  I fly by cars stopped in traffic. I could tell they're thinking, "That guy has it figured out. What am I doing with my life?"
The tenth month:  Cars now seem like an overkill. That lady driving around the Safeway parking lot in the truck designed for hunting wild African elephants? I laugh at her.
The eleventh month: If my calculations are correct, so far I've saved $5,000 by getting rid of my car. This should be enough for at least 2 nights in Vegas.
The twelfth month:  The thought of living in a place which would require me to own a car ever again gives me chills.  Imagine being beholden to a 2,000 pound piece of metal which sucks 15% of your income every month, makes you pudgy, and does bad things to the environment. On the other hand, those new Challengers look nice, don't they?
So, if I have one bit of wisdom after my year without a car, it is this: Don't spit while you're cycling, because no matter how cool you think you look, you'll always get a dabble of saliva on your shoulder.
Stay tuned for my next blog, "Shoe Free Baltimore", where, you guessed it; I'll be going without shoes in an effort to experience the urban lifestyle just as the cavemen did hundreds of years ago.