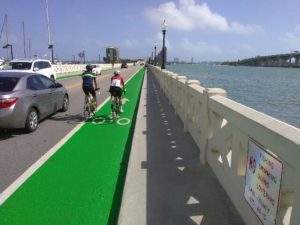 Car Free America has been on hiatus, but now it's back. I relocated for work this past winter and I'm now car free in Miami. How does it compare to Dallas? Here's my run down:
Awesome things:
I find myself using Miami's metro for useful trips way more than I used Dallas' DART service. It helps that it serves big box stores, urban neighborhoods like Brickell, and a slew of new TODs.  More station-area development projects are in the works and Metro has plans to upgrade their entire rail fleet. While DART is a much more extensive system and the largest light rail network in the country, its size can work against it. Traveling from Plano to the DFW airport took nearly an hour and a half, and other cross town trips outside of downtown require bus-rail connections due to the sheer size of the metro, adding to travel times. I don't blame DART, though. I blame the unchecked sprawl that has engulfed the region due to land use decisions made before I was born. Trying to serve an area with transit the size of a small European country is a challenge.   This leads me to a point about urban growth…
Miami is considered a big city, but its urban footprint is smaller and more accessible than many big metros. Thank the Atlantic Ocean and the Everglades. This is an underrated benefit when trying to get around without a car. Even if a destination is beyond biking or transit distance, it's still probably not too far to Uber. The Miami metro is about 15 miles east to west. DFW is about 65. This means many transit and biking trip times can be comparable driving, since longer trips make alternative modes less time advantageous.  I'm sure this difference also impacts commute times by car, but luckily I haven't commuted by car in awhile so I can't speak from first hand experience.
Florida's high-speed rail  has just opened,providing rail service to Miami, Fort Lauderdale and West Palm Beach with future expansion plans for Orlando and Tampa. I'm sure commuters will use it and it beats sitting in traffic on I-95. This service has been great for weekend excursions north, plus the new stations are right downtown and a quick bike ride to nearby attractions. What makes this project different is the combination of housing, retail and offices being built around Brightline stations at the same time rail service begins. Building neighborhoods and transit together leverages both investments.
A few years ago FDOT and Miami-Dade County went on a roundabout building spree. I've seen more of these in Miami than in all my time in Dallas or Baltimore. Personally, I'm a fan. They slow traffic, make intersections look nicer and are way better than 4 way stops while cycling. As long as traffic yields at the legs, floating through a roundabout beats having to stop at a stop sign.

I'd be remiss if I didn't mention biking to the beach. The City of Miami Beach just installed a full network of green bike lanes from downtown Miami across Venetian Way. While protected lanes are the gold standard, the city worked with the right-of-way they had and built a pretty solid network. Cycling around Miami Beach is a joy, especially being a fan of Art Deco architecture.
The scenery. The ocean. The palm trees. The unique architecture and eclectic neighborhoods. I've traveled all over the country and no place rewards getting out of a vehicle like Miami.
The not-so-good
I was going to complain about the afternoon rain, but then I remembered how it cools things off and usually only lasts for about half an hour. Rain gear helps, but it's not completely effective in a south Florida downpour. A big part of cycling is unsheltering your mind and body from constant protection from the weather.  I won't even complain about the humidity because I'm weird and actually like to sweat.
Like every other metro, we need more protected bike lanes. Since Miami is relatively compact, a protected bike lane network can serve a big percentage of the population and a lot of neighborhoods without having to be too extensive. Many neighborhood streets are already bikeable, but just need to be connected by a protected network on collectors and arterials.
Overall, living car free in Miami is definitely possible. Many predict I will soon cave in and buy a Porsche, but many have made those predictions before and were wrong. But the ultimate challenge is yet to come; hurricane season.